News 2017

Sams Carp
Sam Sharp caught this fantastic Carp recently, whilst on a session at Frisby Complex.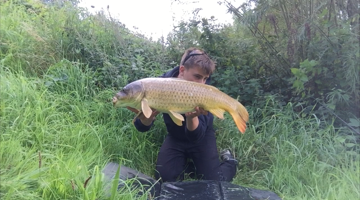 I had a 14lb Ghosty from BJ's a couple of weeks ago, lovely fish and an amazing fight.
Fur & Feather 2017
The annual Fur & Feather Match takes place on Sunday 1st October. Anyone wanting to fish this Match MUST book with Keith Macfarlane in advance. The Tickets are £5.00 for full members and £3.00 for Consessions and must be paid to Keith in advance. All participants will receive a prize

.
Keiths number is in your membership book.
Charnwood Teach-In Days
Sorry for this report being a little "after the event" but this is due to circumstances beyond our control.
The event was fished over two Fridays, the 28th of July and the 4th of August, both on Colver Lake. The youngsters enjoyed themselves and everyone caught some fish. It did cause some confusion on the second day of the event as Charnwood sent nineteen participants where as there were only ten sent for the first day!
Ted Whiter and Kevin Hirons, the Juniors Secretaries, both had very busy days but coped well with the extra numbers. They have asked me to thanks all those members who turned up to offer a helping hand. It would be virtually impossible to run the event without this extra help

.
Kevin, Ted and the rest of the committee also want to offer a big thank you to Mr Paul Cooper, of Coopers Tackle, Netherhall. Paul very kindly supplied all of the bait for both days completely free of charge. Thank you Paul! The club and the youngsters very much appreciate it

.
Seat Box Leg Found
Club member Jess Richardson has found a seat box leg close to peg 4 on Jasons Lake. If you have lost this item send me an email.
webmaster@broomeanglingsociety.co.uk
And I will put you in touch with Jess.